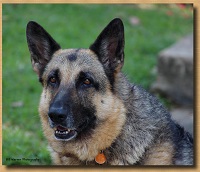 ---
"A Wild Puppy and Us"
by Max D. Hutto
www.upwardlook.org
A puppy that has little or no contact with humans will grow up wild and unsocialized, doing his own thing. He will not behave according to the AKC breed standard. He may look like the breed, but he will not act accordingly. He will understand little about humans and how to have a relationship with them.

We are the same way. If we have little or no contact with God and His Word, we will grow up wild, doing our own thing, and having no relationship with God. The Bible puts it this way, "for all have sinned and fall short of the glory of God." (Romans 3:23). We are all sinners. A sinner is simply one who is wild and doing his own thing. A sinner is one whose behavior does not meet the standard set by God. Yet God wants to have a relationship with us.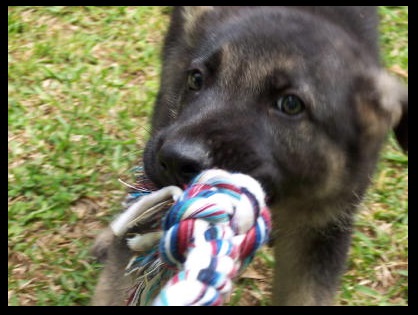 A dog left on his own, or, one that is taught bad behavior such as dog fighting, will not fit into human society. When the wild or fighting dog is caught, he will eventually face a death sentence because he can not be rehabilitated and adopted out to a human family.

Humans can relate to this same death sentence. Because we all are sinners, eventually, we all will die and face judgment. The Bible puts it this way, "For the wages of sin is death." (Romans 6:23a). This death is more than just a physical death. It is a spiritual death. We will be eternally separated from God and punished for our sins. But there is hope. The Bible puts it this way, "But the free gift of God is eternal life in Christ Jesus our Lord." (Romans 6:23b).

A puppy that has contact with a human can be trained to behave correctly. When a human comes into the puppy's life, the human needs to show the puppy love and care.

God has been working since the beginning of time to show us how much He loves us. The Bible says it this way, "For God so loved the world, that He gave His only begotten Son, that whoever believes in Him should not perish, but have eternal life." (John 3:16). The greatest demonstration of God's love came on Calvary's cross, where Jesus took the punishment for our sins. The Bible states it this way, "But God demonstrates His own love toward us, in that while we were yet sinners, Christ died for us." (Romans 5:8). Because God loves us, He was willing to pay the price so we could be adopted into His family.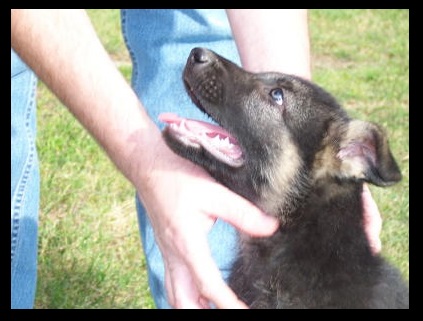 When a human comes into a puppy's life and shows the puppy love, the puppy must trust the human and begin to build a loving relationship with him. The puppy must submit to the human as his pack leader. The puppy must establish a bond with the human.

We, too, must trust God and bond with Him. The Bible says, "If you confess with your mouth Jesus as Lord, and believe in your heart that God raised Him from the dead, you shall be saved; for with the heart man believes, resulting in righteousness, and with the mouth he confesses, resulting in salvation." (Romans 10:9-10). This confession and belief is to trust Jesus as your personal Savior and Lord. Jesus is Savior because He did everything to save you from eternal death by taking the punishment for your sins on the cross. Jesus is Lord because He is your pack leader, your master. This confession establishes a bond between you and God.

You can establish this bond by verbalizing this confession and belief. The Bible puts it this way, "whoever will call upon the name of the Lord will be saved." (Romans 10:13). You can call by simply praying, talking, to God. You can say something like the following:

Dear Lord Jesus, I know that I am a sinner and need Your forgiveness. I believe that You died for my sins and rose again to bring eternal life. I want to turn from my sins. I now invite You to come into my heart and life. I want to trust You as Savior and follow You as Lord, in the fellowship of Your church. Amen.

Saying these words demonstrates your trust in Jesus just as the puppy demonstrates his trust in the human by coming to him and wagging his tail.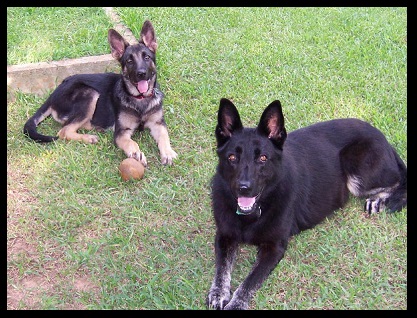 This best represents the first steps in developing a loving relationship between the puppy and the human. They must spend time together. The puppy must learn the human's routine around the house. He must learn what is expected of him. He must learn what he can do and what he can't do. The puppy must learn how to obey the human. When taught obedience commands such as come, sit, stay, and heel, the puppy must go over and over the commands by practicing them daily. Even a well trained obedience dog must practice obeying his trainer.

In the same way, placing one's trust in Jesus as Savior and Lord is only the first step in developing a loving relationship with God. One must spend time with together. We must learn what He expects of us and learn how to obey Him. God teaches us these thing using His Word, the Bible. We must read, study, and obey the Bible. We must communicate with Him daily by spending time studying the Bible and praying. We must learn how to live in a pack called a church. We must grow closer to Jesus. The Bible says it this way, "Grow in the grace and knowledge of our Lord and Savior Jesus Christ." 2 Peter 3:18a

Just like a puppy needs a human to be his pack leader, we need God to our "pack leader."

How is your relationship with God?
---
"A Wild Puppy and Us" © Copyright 2007 Max D. Hutto

The Bible quotes are from the New American Standard Bible, NASB, © Copyright 1960, 1962, 1963, 1968, 1971, 1972, 1973, 1975, 1977, by The Lockman Foundation, La Habra, CA. (used with permission)

---